---
Personal Structures
Peter Lodermeyer

Sculpture Magazine
July/August 2006

Styl­is­tic con­cepts always carry the dan­ger of con­fin­ing art­works too much. In exhi­bi­tion reviews, the works of Johannes Girar­doni and the sculp­tures of Nelleke Belt­jens are reg­u­larly referred to as "Min­i­mal­ist". If, by Min­i­mal­ism, you under­stand the use of sim­ple basic plas­tic forms and the appli­ca­tion of struc­tural fea­tures such as seri­al­iza­tion, rep­e­ti­tion and sym­me­try, then there is good rea­son for this char­ac­ter­i­za­tion. If, how­ever, this con­cept is expanded to encom­pass semi-industrial types of pro­duc­tion and treat­ment of the mate­ri­als, stripped of any trace of sub­jec­tiv­ity and emo­tion, then the works of these artists are vir­tu­ally the oppo­site of Min­i­mal­ism. Nei­ther Belt­jens nor Girar­doni is inter­ested in a smooth, self-referential for­mal­ism. Their sculp­tures appeal not only to the sen­sory per­cep­tion of the viewer, but also to feel­ings and fan­tasy. And, for both artists, their respec­tive work, in which for­mal sim­plic­ity and sub­jec­tive sen­si­bil­ity meet, is a place where per­son­al­ity can res­onate — an instru­ment of self-discovery and self-constitution — in the artist as well as in the viewer.
Both artists have exhib­ited together in a num­ber of Euro­pean cities, includ­ing Ams­ter­dam and Vienna, as well as at the first large museum pre­sen­ta­tion of "Per­sonal Struc­tures" at the Lud­wig Museum in Koblenz, Ger­many in 2005.
Girar­doni and Belt­jens not only share basic artis­tic think­ing, their biogra­phies also have cer­tain things in com­mon. Both were born in Europe, but have a strong foot­ing in Amer­ica, where they spent the deci­sive years their artis­tic devel­op­ment. Girar­doni, born in Aus­tria in 1967, came to the U.S. with his fam­ily at the age of fif­teen, ini­tially mov­ing to South­ern Cal­i­for­nia. Today he lives and works in Man­hat­tan. It is indeed sig­nif­i­cant for his art that he grew up in Aus­tria in the 1970's, near the Hun­gar­ian bor­der, in the shadow of the Iron Cur­tain, and that he later had to reestab­lish him­self cul­tur­ally and lin­guis­ti­cally in his new Amer­i­can envi­ron­ment. As Girar­doni him­self empha­sizes, these bio­graph­i­cal facts cre­ated the per­sonal con­di­tions for his inter­est in explor­ing and con­vey­ing oppo­si­tions in his work.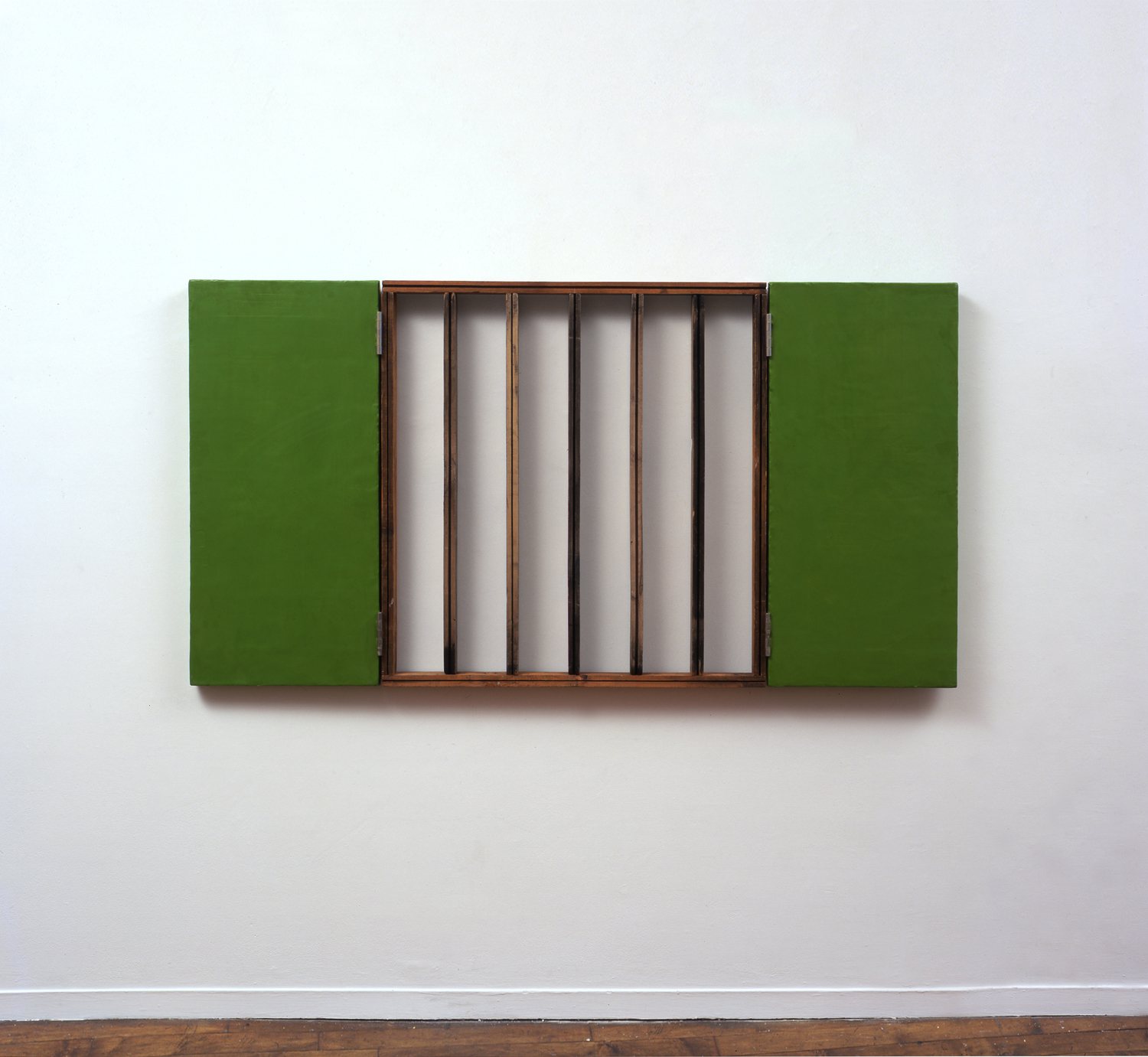 Johannes Girar­doni,
Trip­tych — Cad­mium Green Lt
.
Beeswax, pig­ment, wood.
38.5 × 72.5 × 2.5 in (Open), 38.5 × 36 × 5 in (Closed). 2003.
The oppo­sites embod­ied by Girardoni's sculp­ture are most clearly revealed in the con­trast of his pre­ferred work­ing mate­ri­als, beeswax and wood. Orig­i­nally a painter, Girar­doni took inspi­ra­tion from the encaus­tic works of Jasper Johns and Brice Mar­den to launch his own attempts with wax as a bind­ing agent for color pig­ments at the begin­ning of the 1990s. This tech­nique quickly led him beyond paint­ing to the field of plas­tic cre­ation. Girar­doni com­bines his nat­ural or vibrantly-colored wax bod­ies with found wood ele­ments — slats, blocks, logs or lat­tice struc­tures that look like weather-beaten and worn rel­a­tives of Sol LeWitt's stere­o­met­ric sculp­tures. Fre­quently Girar­doni uses these wood ele­ments in repet­i­tive struc­tures such as stacks and ser­ial rows. By com­bin­ing both mate­ri­als it is pos­si­ble for him to for­mu­late a con­sid­er­able num­ber of for­mal oppo­si­tions that pre­serve the ten­sion of the work: smooth wax sur­faces and cracked wood, color and col­or­less­ness, open and closed, things found and things formed, full­ness and void.
Johannes Girar­doni,
Trough Dip­tych — Yel­low Brown
.
Beeswax, pig­ment, wood.
72.5 × 36.5 × 4 in. 2005.
Above all, the last pair of oppo­sites forms a cen­tral theme for Girar­doni. He repeat­edly stages this con­trast in his works, per­haps most dra­mat­i­cally in his trip­tych of 2003, which can be opened and closed like a medieval winged altar­piece. In a closed state, the work presents itself as a two-part mono­chrome pic­ture in cad­mium green; but when it is open, the viewer is sur­prised by an unex­pected empti­ness. Where the main event would appear in a tra­di­tional altar paint­ing, Girar­doni shows noth­ing — only the naked wall, an empty sur­face framed by a few nar­row, rough wooden boards in ver­ti­cal rhythm. Nowhere else in his works is this fun­da­men­tal char­ac­ter­is­tic expressed so clearly: namely, that what is essen­tial in a work of art can con­sist of the non-visible, the pre­sumed empti­ness. Girardoni's empty spaces chal­lenge the imag­i­na­tive pow­ers of the viewer. With their open­ness and their lack of char­ac­ter­is­tics, they pro­vide him with free space for associations.
Johannes Girar­doni,
Untitled/Light Object — Cad Yel­low Deep
.
Beeswax, pig­ment, wood. 29 × 36 × 11 in. 2003.
Col­lec­tion of The Fogg Art Museum.
This claim is very clear in a series of works called "Face Box (Col­or­void)". These are fairly small-format works for the wall, their wood sup­ports cov­ered with an intensely yel­low layer of wax. The wax has a hol­low inden­ta­tion in the mid­dle, just big enough to accom­mo­date the face of a poten­tial viewer. Exhi­bi­tion vis­i­tors are actu­ally urged to get closer and closer to the "Face Box" and finally, to insert their faces. Girar­doni is not con­cerned with view­ers who remain pas­sive, but in par­tic­i­pants who enter into an active and inti­mate dia­logue with the works, even to the point of phys­i­cal con­tact. The per­son who takes up this unusual offer avails him­self of a whole series of expe­ri­ences. The closer you get to the "Face Box", the more the work detaches itself from its rela­tion­ship to the sur­round­ing room, the field of view increas­ingly dom­i­nated by the yel­low of the wax. But there is a cer­tain moment when the thresh­old of per­cep­tion is passed: the per­son who dares to place his face in the object, sur­ren­der­ing him­self to the work, com­pletely dark­ens his view with his head. At this point, visual (color) per­cep­tion sud­denly recedes, replaced by tac­tile sen­sa­tion and the strong smell of the wax. This aes­thetic bor­der cross­ing, which may scare off some vis­i­tors because it vio­lates the cus­tom­ary rules of behav­ior in muse­ums and gal­leries, makes the viewer rely wholly on him­self and the reflec­tion of his per­cep­tion. This is pre­cisely Girardoni's aim: he prop­a­gates the work of art as a cat­a­lyst for self-perception and exis­ten­tial self-experience; his works remain as open as pos­si­ble, their con­tent not pre­scribed by the artist.
The view­ers response cer­tainly has some­thing to do with the smell of the beeswax, which often causes Girardoni's works to trig­ger strong emo­tional reac­tions. Olfac­tory expe­ri­ences are known to lead directly to the cen­ters of emo­tion and mem­ory in the human brain; and the smell of wax, like that of can­dles burn­ing, is tied to all sorts of vivid per­sonal mem­o­ries for most of us. The viewer may also imme­di­ately sense the fact that many of Girardoni's works cor­re­spond to human size and pro­por­tion and refer directly to the human body.
Johannes Girar­doni,
Trough (Col­or­void) — Mars Red Orange
.
Beeswax, pig­ment, wood. 98 × 14.25 × 10 in. 2005.
This sub­tle anthro­po­mor­phic fea­ture applies in par­tic­u­lar to the "Trough (Col­or­void)" sculp­tures, which are placed at a slant against the wall. This man­ner of pre­sen­ta­tion recalls the col­ored planks that John McCracken began pro­duc­ing in the mid-1960s. But the posi­tion­ing and the strong color are all thart Girar­doni has in com­mon with this West-Coast Min­i­mal­ist. Whereas McCracken sought smooth, per­fect sur­faces that would sin­gle his objects out from any real con­texts as time­less, flaw­less for­eign bod­ies, Girar­doni puts his "Troughs" into direct rela­tion­ship with the viewer. This nearly phys­i­cal ref­er­ence over­flows with asso­cia­tive oppor­tu­ni­ties. As in the "Face Boxes", the wax sur­faces of these works have been hol­lowed out at the front. Their size inevitably evokes a notion of being con­tained in the viewer, stir­ring very dif­fer­ent con­no­ta­tions that can range from feel­ing secure to being laid out on dis­play. It is also pos­si­ble to take the title "Trough" quite lit­er­ally since Girar­doni sim­ply bor­rows the form of a cat­tle trough used for feed­ing and water­ing. And yet the sculp­tures never wholly embody any one these notions; instead they resist clear fix­a­tion. This par­tic­u­larly applies to the strong color of the yel­low or red-orange layer of wax which can­not be brought into con­nec­tion with any of the pos­si­ble asso­ci­a­tions, and main­tains its own non-derivable real­ity. As the sub­ti­tle "(Col­or­void)" would sug­gest, the hol­low, empty space is here again the actual cen­ter of the work. The hol­low form turns out to be a con­tainer filled with an imma­te­r­ial "stuff" of light and color. Due to the soft groov­ing of the inte­rior sur­face, the color is slightly mod­eled, the light reflect­ing in a soft glow from the slight translu­cency of the wax. The sculp­ture thus becomes the car­rier of an explic­itly painterly phe­nom­e­non, while the mate­r­ial of the wax-covered wood becomes the foun­da­tion of an imma­te­r­ial phe­nom­e­non. Con­sid­er­ing the sub­tle anthro­po­mor­phism of Giradoni's art, it is not dif­fi­cult to see in this con­di­tion a metaphor for the inter­ac­tion of body and mind.